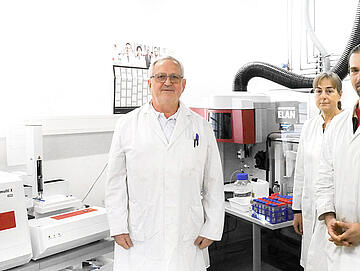 "Analytik Jena played an important role in our company foundation"
Arndt Philipp, Managing Director Analysen Service GmbH, Leipzig
The challenge
Instruments and services for the analysis of environmental, fuel and oil samples
Reliable sample results despite highly particle-containing matrices
Sample diversity ranges from pure waters to contaminated eluates
The solution
AAS with graphite tube furnace and flame technology
Highly reliable mercury analyzers
ICP-OES for easy analysis of high-matrix samples
ICP-MS for low detection limits
Robust and reliable AOX analyzers for water analysis
Almost complete spectrum for the sum parameters
Comprehensive service and support package for all instruments and applications
Decision-making facts
Fast, competent service
Long-term quality and reliability of Analytik Jena devices
Long-standing, trusting cooperation
30 years together
Analysen Service GmbH from Leipzig has a long history with Analytik Jena and its employees. Managing Director Arndt Philipp has been working with the instruments for many decades, and Analytik Jena also played a role in the founding of the laboratory.
Partnership since the beginning
"When the young Analytik Jena introduced itself to leipzig in 1991, I was skeptical," says Arndt Philipp, now Managing Director of Analysen Service GmbH, looking back on his first encounter with Analytik Jena. "I was unsure whether this new company would meet our requirements. After all, we had a large fleet of equipment with instruments from the former Zeiss combine and this unknown company continued that now?" Shortly after the reunification of Germany, Analytik Jena started its business as a sales company for analytical instruments of the former Zeiss combine. "We finally got into business and that turned out to be a very good decision," Arndt Philipp continues. Since then, Analysen Service GmbH has been a loyal customer of Analytik Jena. The Leipzig laboratories contain numerous devices from Jena – including various AAS and ICP-OES devices as well as AOX and mercury analyzers. The partnership is so close that Analysen Service GmbH was even chosen as the test laboratory for the PlasmaQuant 9000 (ICP-OES) a few years ago. The feedback from Analysen Service GmbH has made a decisive contribution to the improvement of the product.
"Analytik Jena played an important role in our company foundation," says Arndt Philipp, describing the close relationship. "A very motivating conversation with Klaus Berka, then Managing Director of Analytik Jena, finally convinced me to take the step into self-employment." The contract laboratory was founded in 1998 with three employees of Arndt Philipp. Mr. Philipp and his colleagues had already worked on fuel and oil analysis in the laboratory of the local gasworks and energy combine of the city of Leipzig before reunification. After reunification, the laboratory was integrated into a laboratory network - the premises were later taken over by Analysen Service GmbH.
Due to this many years of experience in fuel and oil analysis, the newly founded laboratory initially specialized in this area. Over time, the range of services has been continuously expanded. Today, in addition to fuel, insulating oil and mineral oil analysis, Analysen Service GmbH also offers the entire spectrum of environmental analysis for national and international customers. More than 20 people work for the company today. In 2017, a modern new building was moved into, which meets the highest laboratory standards and is intended to ensure the scalability of the analytical services offered to the numerous customers. As an accredited testing laboratory, these standards are regularly checked by public bodies. "In addition to the independence of our work, compliance with all legal and technical regulations is a matter of course for us," says Arndt Philipp.
Quality, reliability and trust
Arndt Philipp particularly appreciates the very reliable, collegial and good support of Analytik Jena by the employees from service and sales: "If we need support, the help comes immediately. The service and sales team at Analytik Jena always comes up with something." A fast and competent service is particularly important for Arndt Philipp and his employees. The laboratory relies on functioning analytical instruments. Equipment failures can mean considerable economic damage. A fast and uncomplicated device service such as that from Analytik Jena is therefore essential for the laboratory. Philipp illustrates this with an anecdote: "In 1999, my beloved IR prism device, then 28 years old, gave up the ghost. The device was constantly in use for insulating oil analysis and had to be repaired immediately. Analytik Jena provided our laboratory with a replacement device within a very short time, even though financing on our part had not yet been secured. That impressed all of us here very much."
But not only the customer service, but also the quality of the analysis systems convinced Arndt Philipp. Important criteria for a device purchase for Analysen Service GmbH are long-term quality and reliability. "There are certainly cheaper instruments, but none that work so long and so reliably," Philipp explains the advantages of the Analytik Jena instruments. "The analysis quality of the devices is outstanding. In the long term, we will even save costs."
"If we need support, the help comes immediately."
Arndt Philipp, Managing Director Analysen Service GmbH, Leipzig
Die Geschichte der Analysen Service GmbH, Umwelt- und Öllabor Leipzig The history of Analysen Service GmbH, Umwelt- und Öllabor Leipzig goes back to a laboratory that was built about 60 years ago for the former gasworks in Leipzig and was later assigned to the Energiekombinat Leipzig. As early as the 1970s, the laboratory specialized in the analysis of fuels and oils. In 1998, the private-sector, family-run testing laboratory was founded – initially with a specialization in the analysis of fuels and oils. Later, environmental analysis services were added. Today, more than 20 employees work for the company. The accredited testing laboratory works for numerous customers from the private and public sectors, including engineering offices, power plants, energy suppliers, waste disposal companies and municipal institutions. In order to be prepared for the future, Dirk Philipp, the son of the company founder and specialist for insulating oil analysis, has also been appointed managing director for several years. Further information on Analysen Service GmbH can be found at www.analysen-service.de or post@analysen-service.de .
Do you have any questions? Contact us.