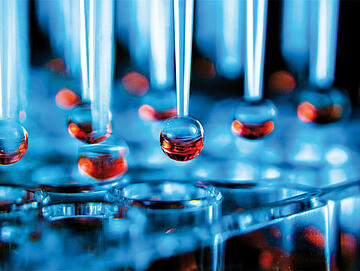 "We tested some other liquid handling platforms. The CyBio FeliX was best suited for our application."
Dr. Maria Barthmes, Product Manager SURFE²R 96SE Nanion , Munich
Task
Combination of a compact pipetting platform with measuring chamber for fast, homogeneous liquid delivery
Solution
Customized OEM version of the CyBio FeliX
Integration of the SURFE2R 96SE into CyBio FeliX
Workflow creation and application optimization
Advantages
Robust and precise
Reproducible results
Access to Analytik Jena's extensive liquid handling expertise
Transporter protein research rethought
The measurement of electrical currents in the medically highly relevant transporter proteins was impossible for a long time - until the company Nanion from Munich shook the market with a new technology. A core component is a high-precision pipetting system from Analytik Jena.
Automated screening of transporter proteins
Transporter proteins are membrane proteins that transport dissolved substances such as sugars, amino acids or drugs into and out of cells. The transporter proteins are therefore important for many physiological processes in the body. In drug discovery, transporters have been of great interest for some time now, as they hold great potential for the development of new drugs. Until now, there have been very few methods to measure the activities of transporter proteins. However, Nanion from Munich has found a way to make the minimum electrical currents measurable in real time, with which one can characterize the proteins for research purposes. Nanion's technology relies on two core components: sophisticated measurement technology and high-throughput liquid handling. For the latter, Nanion relies on Analytik Jena.
Nanion needed a liquid handling platform for its product SURFE2R 96SE, a system for measuring electrical currents in transporter proteins, into which the SURFE2R 96SE can be integrated. "We tested some other liquid handling platforms," says Dr. Maria Barthmes, Product Manager at Nanion. "The CyBio FeliX was best suited for our application."
"Thanks to the combined expertise of Nanion and Analytik Jena, we can now offer our customers even more options for the characterization of test substances."
Dr. Ralf Schwandner, CEO Assay.Works GmbH and user of Nanion's CyBio FeliX-based SURFE²R platform
Decision-making facts
Close coordination and adaptation with Analytik Jena team Fast and precise Analytik Jena team Fast and precise delivery of liquid at a uniform flow rate Easy integration of Nanion software routines, thanks to open interfaces Excellent service & support.
Close cooperation and support of the Analytik Jena team
For the measurement of electrical currents in proteins, the liquids to be tested must be applied very quickly and precisely. The signal amplitude would otherwise be distorted by disturbances in the flow.
Analytik Jena developed a customized OEM version of the CyBio FeliX for Nanion, based on an open and integrative design approach. Nanions measuring instruments have been integrated directly into the platform. Using open software interfaces, the developers were able to easily combine Nanion software routines with the CyBio FeliX control software. Together with Nanion, the Analytik Jena team developed a solution that optimally met the requirements. "The great team at Analytik Jena not only developed a tailor-made pipetting platform for us, they even optimized the workflow of the application," explains Dr. Barthmes. "We are very happy with the cooperation."
Nanion's customers have a similar view. "We have been observing the development of SSM-based electrophysiology for a very long time," says Dr. Ralf Schwandner, founder and CEO of Assay.Works GmbH. The screening service provider is already successfully using the SURFE2R 96SE. "With Nanion as an expert in applied electrophysiology and Analytik Jena as a manufacturer of precise liquid handling instruments, the SURFE²R 96SE has created a basis that enables Assay.Works to offer our customers a new option for the characterization of test substances for their membrane transport targets in physiologically relevant assays. The CyBio Felix-based SURFE2R 96SE platform fits seamlessly into our existing Cybio automation."
About Nanion Technologies
Nanion is a provider of biotechnological instruments for the pharmaceutical industry and academia. The portfolio of the Munich-based company includes systems for ion channel research, screening, bilayer measurement and transporter research. Nanion is represented worldwide, including subsidiaries in the USA, Japan and China. More information can be found at www.nanion.de 或 info@nanion.de.