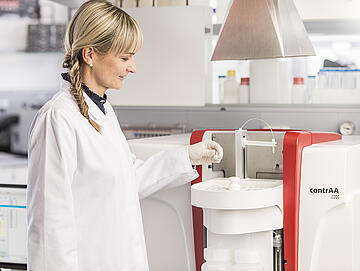 "Analytik Jena scored points in terms of hardware, software and service."
Dr. Steffi Traufelder, Head of Chemical-Analytical Laboratory, IHU Geologie und Analytik GmbH , Stendal
Task
Provide robust solutions for routine analysis of the parameters TOC, TNb and AOX/EOX as well as for metal and mercury determination
Advantages
Lowest detection limits
Robust & reliable overall solution
Fast service & support by experts
Strong partner for analytics
IHU Geologie und Analytik GmbH (IHU) has established itself as a strong partner for contract analytics in the region of northern Saxony-Anhalt and adjacent regions. For many clients from the public sector and the private sector, the chemical laboratory is the first point of contact for environmental analysis and the soil mechanical laboratory for geoanalytical issues. IHU stands for proximity to the customer and high analytical quality and ensures this with technology from Analytik Jena.
Elemental analysis and elemental analysis at the highest level
IHU's chemical laboratory covers a very wide range of analytical methods in the field of water and soil analysis. It is a strong regional partner for public and private clients – for example, for investigations of pollutants in groundwater, soil or construction waste; Determination of the composition of drinking water or determination of the nutrient content of agricultural soils and sewage sludge. The laboratory is characterized by proximity to the customer and high quality of the services offered. Many customer relationships have existed for decades. In order to guarantee the quality of the analysis technologically, IHU relies on the analysis measurement technology of Analytik Jena, among other things. For IHU, a wide variety of factors are crucial when choosing the right system. "In addition to the methodical and technical robustness of the systems, functionality is particularly important to us. Hardware and software must be easy and logical to use. A good service from the manufacturer, who accompanies us throughout the entire service life of the devices and provides prompt support, rounds off the package for us. Analytik Jena was able to score points everywhere," says Dr. Steffi Traufelder, head of the chemical analysis laboratory, describing the decision-making process. IHU's chemical-analytical laboratory is an accredited, notified and certified laboratory. The standards to be adhered to are correspondingly high.
"An excellent overall package."
Benita Fischer, Deputy Head of Laboratory Chemical-Analytical Laboratory, IHU Geology and Analytics, Stendal
Decision-making facts
Robustness and reliability of the analyzers from Analytik Jena
Very good technology
competence in service and support
Fast response times and easy accessibility
High standards
Today, the laboratory successfully uses a whole range of Analytik Jena systems. AOX analyzers of the type multi X 2500 support the analytical experts from Stendal, among other things, in the AOX water analysis, the investigation of sewage sludge or the EOX examination, e.B. within the framework of the LAGA directive. The detection of TOC (total organic carbon) and TN b (total bound nitrogen) in solid and liquid samples is carried out using the multi N/C 2100S. For metal determination in water samples and soil extracts or digestions, IHU relies on atomic absorption spectrometers (AAS) of the contrAA 800 series, both with flame and graphite tube technology, as well as on the mercur DUO Plus mercury analyzer for mercury determination. "The devices are technically very good," explains Benita Fischer, Deputy Laboratory Manager at IHU. "To this end, we receive fast and uncomplicated support from the Analytik Jena service. An excellent overall package."
About IHU Geologie und Analytik Gesellschaft für Ingenieur-, Hydro- und Umweltgeologie mbH
IHU Geologie und Analytik GmbH was founded in 1991 as an engineering office with an affiliated laboratory in Stendal. Today, the company is represented at three locations (Saxony-Anhalt, Brandenburg, Mecklenburg-Western Pomerania) and is divided into six departments. In addition to chemical analysis, IHU offers engineering services as well as geological, geographical, hydrological and ecological services. In the chemical laboratory, a wide variety of liquid and solid samples are examined for environmentally relevant parameters. The laboratory meets the highest standards and is notified by the relevant environmental authorities, accredited by DAkkS and certified. For more information, see www.uni-due.de/zmb .